Hello lovelies! We're sharing the most delightful wedding today, with images beautifully captured by Yanick Lespérance for our lovely couple. Meet Sandra and Pierre, who married on the 24th of July 2015 at La Toundra, Île Notre-Dame, Montreal, Québec.  They used midnight blue, black, gold, neon accents, tropical leaves, brown paper and wood for their non-traditional wedding. This is they kind of couple that just simply has style. That kind of style that just seems to follow them wherever they go, which really shined through on the day they said I do.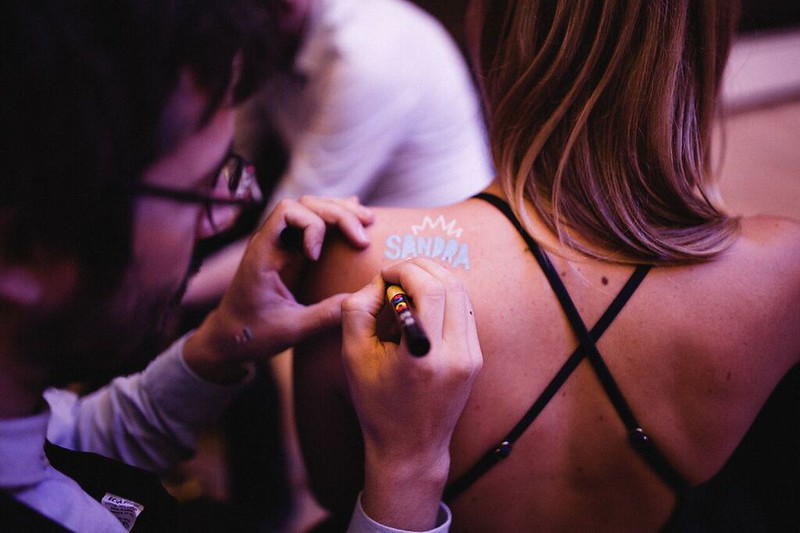 From Sandra and Pierre…Our love story began in London U.K. ten years ago; we were Erasmus students at the time. The wind carried us across the Atlantic and after 8 years of living together, in our adopted city of Montreal, we decided to get married there. Pierre popped the question while we were on vacation at his parent's in south France.  A few weeks after only, we selected the place and got started with the preparation of this wonderful project. We picked a rare place on an island, very close to the city and still surrounded by Mother Nature (Pierre's second spouse!).
The wedding venue was La Toundra, formerly known as Canada's pavilion at Expo 67, the 1967 International and Universal Exposition, and Canada's main celebration during its centennial year. The place is located on an island right next to Montreal's main island.  La Toundra's geometric shaped ceilings, wooden decors and luxuriant Floralies gardens have particularly drawn us. By then, we had 11 months left to plan a party that reflects who we are. We had no intention to copycat an existent romantic or rustic theme; we wanted to create our own little world, unique, organic, laid-back and classy at the same time.
Preparations
First thing we did was to design a logo: a geometric heart with several facets that bears a resemblance to venue's ceilings. Then we built a website which happened to be very practical and informative so our guests, mostly coming from France, would find everything they need to prepare their trip to Montreal.  Next we created a mood board with lots of pictures, colors and key words we liked: midnight blue, black, gold, neon accents, tropical leaves, brown paper and wood. Although we sent this board to the bridesmaids and best men as a guide to pick an outfit for our big day, we left them the choice to wear whatever they wanted, so they could keep their own fashion style.
For the rest, anything was possible with some organization, imagination and a bit of elbow grease! Our den was soon packed with DIY creations: a giant geometric heart, table décor, the photo booth backdrop, screen-printed napkins made with our friend and artist Adrien as favors for our guests to bring home, and much more. We love to remind ourselves of these adorable co-creation moments as being a truly nice preparation to the wedding.
We have been running until the very last night, we actually had one little break the night before to practice our wedding dance! A chance our friend Julia had shown us some moves a few weeks before. The flip side of building a lot of things ourselves is that we could not enjoy a spa day before the big day like most couples do, however it allowed us to spare a lot of money and thus to invite more friends.
Weather forecast had been pretty scary for a few days before as we intended to have our ceremony on the outside, amid the beautiful trees and flowers. A fall-back solution had to be found. Also, as if stress had not already struck to a high level, we learnt that we could not have the room set-up the day before, as planned, because of another unexpected event taking place at the venue the previous day.  By chance, our wonderful friends, bridesmaids and best men, met the challenge to set the place as we had imagined it in a few hours only in the morning of the big day.
We wanted our guest to taste a bit of our adopted country and go all "local": delicious BBQ-cooked food, Montréal Broken 7 artisanal beer, Niagara and Ile d'Orléans wines, blueberries cupcakes… Which is actually very different of what you could find in a traditional French wedding.
Our favorite moments
The moment when we discovered the place, carefully decorated as we imagined! We will never be able to thank our friends enough for being truly awesome.  Rachel, our wedding day coordinator was also very helpful.
The first look has been the most enchanting moment of all. We discovered each other in the Griffintown St-Ann Park right across our street, right amid the trees, and more precisely on the ruins of a church. Pure bliss.
Our very talented photographer Yanick Lespérance made a wonderful job covering the day. He offered us a photo album nicely presented in a gorgeous leather case.
Besides, 900 moments have been immortalized in our « Party animals » themed photo booth. And some birds got paired by the end of the night!
Another fun feature: we left some notes with a questionnaire on which the guest could give us feedback on the party; each guest got a pencil at his seat and could post the note in a box at La table des mots. These were a lot of fun to read a couple of days after.
I also love remembering all the divine words unveiling throughout the day. We asked our guests to give a word on our website, a word that makes them think about us. These words have then been scattered here and there: in our speech, in a game on the table place cards, on gum paste decors on the desserts, on the screen… We also wrote a little catch phrase for each guest on the place cards, which often worked as an icebreaker for people who met for the first time. Last but not least, we hired members of the Skin-jackin artists' collective who body-painted some nice bride-and-groom-related play on words.
But ultimately it's our friends Benoît and Anne-Christel who had the nicest words for us during the ceremony: a perfect blend of jokes, solemn speeches, poetry and music. And, against all expectations (and weather forecasts), we have been blessed by the sun's presence on our little island, whereas, meanwhile, there was pouring rain elsewhere in Montreal!
Crunchy stories
That day I sent a video of me wearing my wedding gown, to my husband to be… He swears he didn't watch it though.
When came the time to chose the flowers, we selected a variety of chrysanthemums, because WTH…. "À la vie, à la mort" as the French would say (i.e. something like "In Life and Death" / 4ever!).
We had 13 people seated at the head table; however, we had 15 chairs because of one superstitious friend, which led to a catering confusion…
Two guests got caught red handed while making love in a bush J #blushingbirds
One advice
Make it count, as much as you can. Time flies, especially that day. Enjoy several days of celebration with the guests in town for the occasion and plan a mini-moon once everyone has left. Make the pleasure last a few days longer on a retreat with your husband. We went to Prince Edward County.
Finally, planning your honeymoon a few months after leaves you with something magic to wait for while you will be sorting your beautiful photos into albums and watching your wedding video over and over again!
…………………………………………….
Photographer : Yanick Lespérance | Venue : La Toundra, Île Notre-Dame, Montreal, Québec (Canada) | Wedding-day coordinator: Rachel Lavigne | Make-up and hair: Sylvie Léveillé | Wedding dress (day): Oleg Cassini | Veil : Zac Prozen | Accessories : cuff by Carven | « heartbeat » necklace found on Etsy | engagement ring by Tiffany & co |  Ear-piece by Ryan Storer | Shoes by Yves Saint Laurent | Dress (night): custom-made by Paola Mokbel | Groom: The Kooples | Groom accessoires: wooden bow tie by Atelier Lagrange | hangers by Simons | shoes by Ted Baker | Wedding rings : Philippe & Co | Flower girl dress: Cyrillus | Flowers: Nina at Le Pot de Fleurs | Chefs: Frédéric Authier, Francis Duval and team | Pastry chef : Céline Carbonneau, Nougat & nectarine | 3-D logo printing for bridal bouquet and DiY Tools : Helios Makerspace Community Workshop | Invitations and thank you cards : diy by the couple | Glassware, china, cultery rental supply : Bravo | Giant black curtain: Dee-Expo