Fall Wedding Flower Ideas
As the fiery hues of autumn sweep through the landscape, lovebirds find themselves drawn to the enchanting charm of fall weddings. This season presents a captivating array of colours, textures, and blooms, making it the perfect time to celebrate love amidst nature's splendor. From warm and rich tones to elegant and rustic arrangements, fall offers a plethora of wedding flower ideas that will transform your special day into an unforgettable celebration of romance. Let's explore some enchanting fall wedding flower ideas to inspire your dream wedding.
1
Embrace the Autumnal Palette
Fall's natural palette is a breathtaking blend of rich and warm colours, encompassing deep reds, burnt oranges, golden yellows, and rustic browns. To truly embrace the spirit of the season, infuse your floral arrangements with these captivating hues. Opt for bouquets and centerpieces featuring roses, dahlias, chrysanthemums, and zinnias, all of which are abundant during the fall months. Intersperse these blooms with touches of greenery like eucalyptus, olive branches, or ivy to add depth and texture.
Photo by  Charly Mae Photography
Photo by  Elisa Lopez Photography.
Planning by Wonderland Invites. | Flower by Passion Flowers by Emma Spowage  | Styling by Rock The Day Styling.
2
Incorporate Seasonal Foliage
Fall weddings offer a unique opportunity to incorporate an array of exquisite seasonal foliage into your floral arrangements. Consider using maple leaves, oak leaves, and other autumnal foliage to create a lush, vibrant atmosphere. These foliage elements can be used in bouquets, table runners, and even hanging installations to infuse a touch of woodland charm into your wedding décor.
Photo by  Nicole Nero Studio
Photo by  Natalie Michelle Photo Co
Photo by  Talia Nelson Photography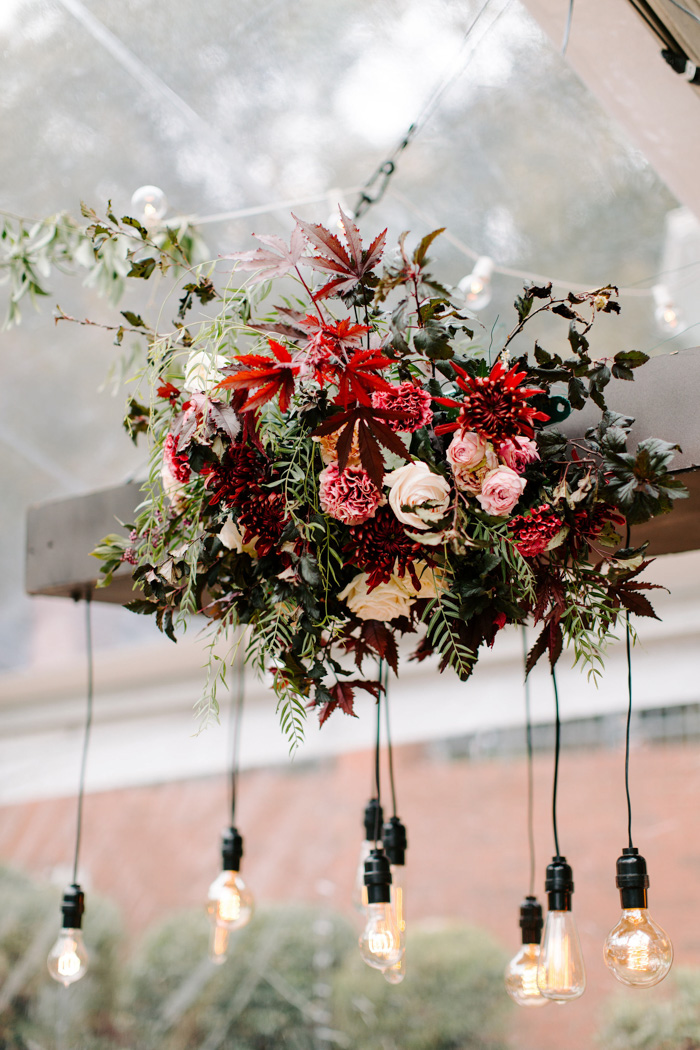 Photo by  Rachel Fugate Photography
3
Captivate with Dried Flowers
Dried flowers have been making a comeback in the world of weddings, and fall is the perfect time to embrace this trend. Dried wheat, lavender, baby's breath, and even protea can add a rustic and vintage feel to your floral arrangements. Consider using dried flowers as aisle markers, boutonnieres, or as part of your table centerpieces for a unique and lasting touch.
Photo by  Tori Kelner Photography.
Photo by Monique Serra Photography  | Styling & Design: Mae & Co Creative | Florals: Brier + Ivy
Event Design : Rothweiler Event Design
4
Seasonal Succulents
Incorporate the timeless elegance of succulents into your fall wedding flower arrangements. Succulents come in a variety of shapes, sizes, and colours, making them a versatile addition to any bouquet or centerpiece. Their earthy and chic appearance complements the autumnal theme and adds a touch of modernity to the overall look.
Photo by  Mary Kate Anthony.
Photo by  Rebecca Rizzo Photographics .
5
Delightful Floral Installations
Make a statement with awe-inspiring floral installations. From arches adorned with cascading flowers to hanging floral chandeliers, these breathtaking installations can serve as beautiful backdrops for your ceremony or reception. Opt for an assortment of fall flowers and foliage to create a captivating display that celebrates the season's beauty.
Photo by  Hannah Leigh Imagery.
Flower by  Blush Flowers On Vine.
6
The Timeless Appeal of Roses
Roses, with their timeless appeal, are available in various hues, making them a versatile choice for any season. For fall weddings, consider opting for deeper-toned roses such as burgundy, deep red, or peach. Pair them with complementary flowers like ranunculus, hydrangeas, or anemones to create elegant and sophisticated arrangements.
Photo by  Kyrsten Ashlay Photography
Photo by  Emma Lawson Photography.
7
Shades of Berry
Embrace the allure and elegance of the fall season by infusing your wedding with shades of berry flowers. From the deep, velvety petals of burgundy roses to the delicate charm of scabiosa, each bloom adds a unique touch of romance and sophistication to your special day. Complement the berry hues with soft, natural greenery and neutral tones to create harmonious and enchanting floral arrangements. Your fall wedding will be a celebration of love and beauty, as captivating as the changing colours of the autumn leaves.
Photo by  Jieru Photography.
8
Sophistication & Romance
As autumn paints the world in warm and captivating hues, a wedding adorned with shades of berry flowers exudes a sense of sophistication and romance. The rich tones of berries, ranging from deep purples and maroons to soft pinks and mauves, complement the season's enchanting ambiance. Incorporating these delightful blooms into your fall wedding will create an atmosphere of elegance and charm that will linger in the hearts of all who attend. Let's explore the enchanting world of berry flowers and how you can infuse them into your special day.
Photo by  Rachel Fugate Photography
Embrace the Beauty of Nature
Fall weddings offer an extraordinary opportunity to celebrate love in the midst of nature's most breathtaking season. With a rich tapestry of colours, textures, and blooms at your disposal, you can create a wedding that reflects the essence of autumn's splendor. From embracing the seasonal palette to incorporating dried flowers and succulents, there are endless possibilities to design stunning floral arrangements that will leave a lasting impression on your guests. So, embrace the beauty of nature and let your fall wedding bloom with captivating floral designs, making it a day to cherish forever.
---